Page 4 of 5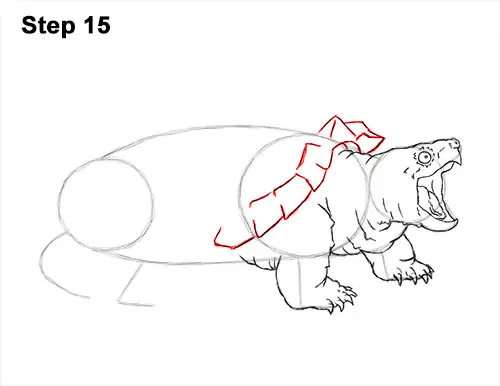 Step 15: Add the front part of the turtle's shell by first lightly sketching a sloping line across the big initial circle. This line will be the bottom edge of the top shell. Draw it close to the front leg. When you get the slope and length of the line right, darken it. Draw short lines along the path of the sloping line. On the left end, draw an angled line similar to a less-than sign (<). Now draw a series of angled lines along the top for the spikes on the edge of the shell. Follow the path of the initial sloping line as you draw the triangle-like shapes for the edge of the shell. Don't draw too many of these big spikes. They should be big and clunky. The spikes closer to the bottom of the shell should be less pronounced.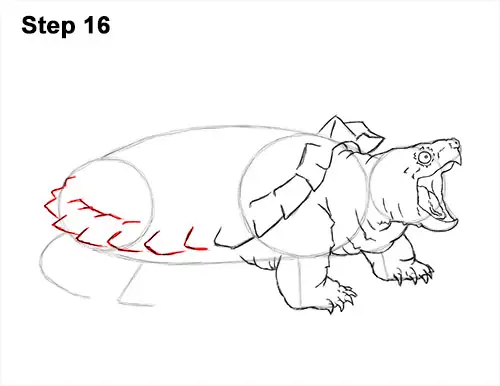 Step 16: Continue to draw the lower edge of the turtle's top shell by using the initial lines and shapes as guides. Draw a series of short, angled lines along the inner edges of the guides at the bottom. The shape of the lines should be similar to less-than signs. Continue drawing the spikes on to the left side of the initial guides. Add a few lines to the top part of the ridge on the left side.
Step 17: Draw a few more angled lines along the middle for a second row of spikes. Don't draw these spikes all the way to the left; just along the middle. Above that row, draw a series of V-shaped lines for the base of the spikes in the next step. Under the row of spikes, draw a short, curved line for the shell's bottom plate. Pay attention to the placement of every line.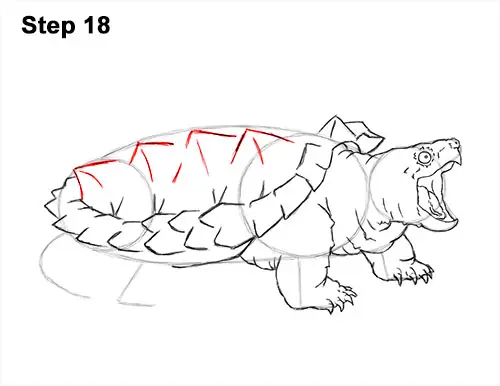 Step 18: Now draw big triangle- like lines along the top for the big spikes on the turtle's shell. The top point on these spikes should follow the path of the initial curved guide line. Don't draw too many of these spikes. Draw only a few big, clunky ones. More will be added in the next step. Add some lines in the middle too so that the lines are more pyramid-like. The lines should almost connect to the bottom edge.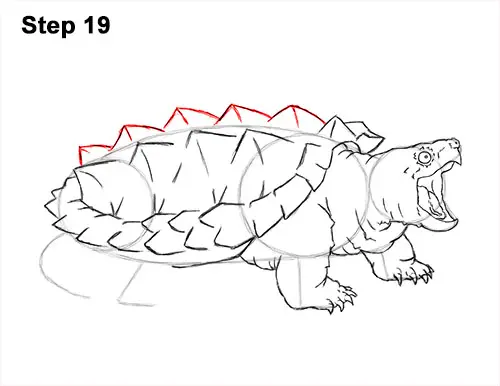 Step 19: Draw another row of spikes at the top. Alligator snapping turtles have three rows, but only two are visible from this angle. Draw these spikes along the top edge of the initial curved guide line. Make the spikes wide. You can also make them a bit taller if you want a spikier effect. Add a line in the middle of each spike to make them pyramid-like. The right-most spike should meet the front section of the shell.