Page 3 of 4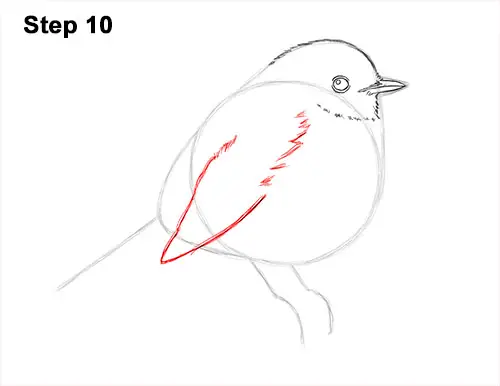 Step 10: On the left side of the body, lightly sketch the shape of the folded wing. The shape of the wing should be thin. The bottom should be pointy and slightly outside of the body. When you get the placement and shape right, darken the lines using short strokes at the top. Use a single unbroken line for the bottom part of the robin's wing.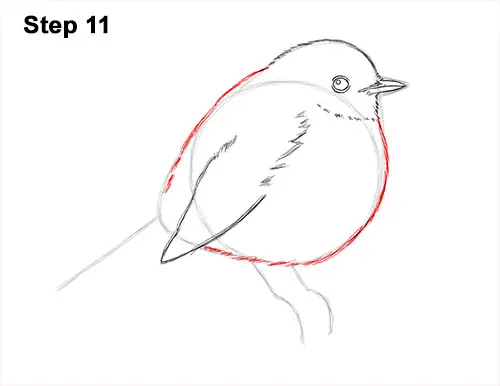 Step 11: Use the big circle and curved line on the left as guides to draw the European robin's body. Darken the outer edge of the initial guides to create the shape of the body. Use a series of short strokes to create a feathery, fluffed-up texture.
Step 12: Use the line on the left side as a guide to draw the robin's tail. Follow the path of the guide and draw the shape of the tail around it. The top part of the tail should be wider than the bottom tip.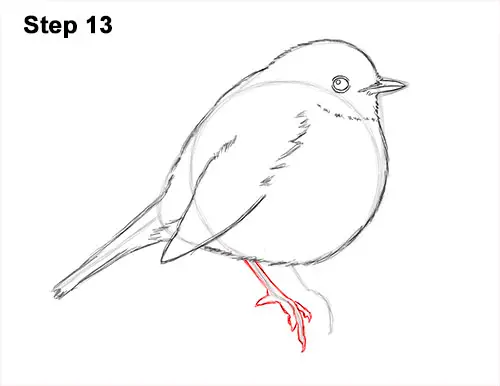 Step 13: Use the line under the body on the left side as a guide to draw the robin's first leg. Draw the shape of the leg around the guide. Draw the long middle toe using the curved part at the bottom. Add a shorter toe on either side of the longer toe and make the tips pointy for the nails. Add an even shorter toe near the top that points to the left.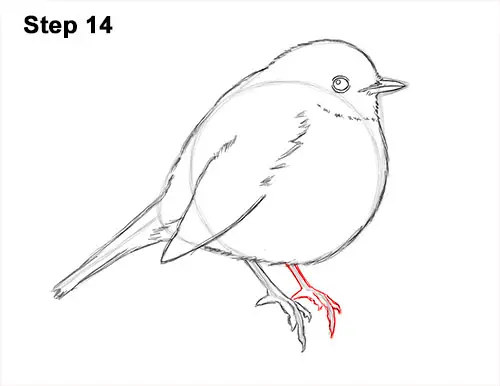 Step 14: Use the line on the right as a guide to draw the robin's other leg the same way. First follow the path of the guide to draw the top of the leg and the middle toe. Then draw the shorter toes on the side, including the one pointing left at the top.