Page 3 of 3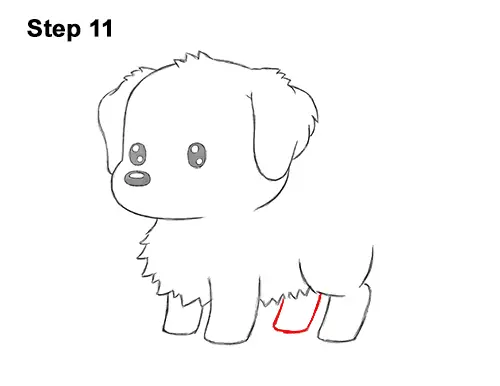 Step 11: To the left, under the body, draw the lower half of the golden retriever's other hind leg using a couple of short lines.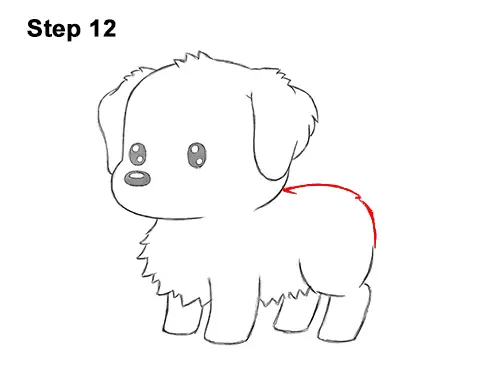 Step 12: Draw a long, curved line from the hind leg to the head for the back portion of the body. Along the way add a few angled lines for the fur. At the top add a short, curved line for the golden retriever's neck.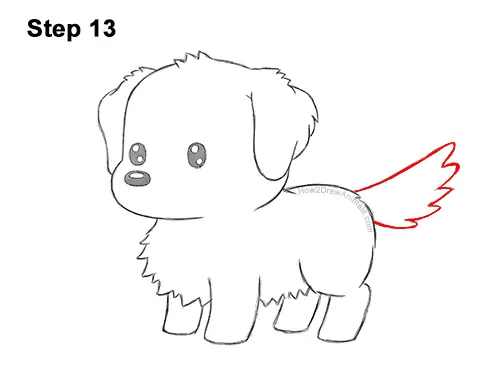 Step 13: On the top, right side of the body, draw a long line that slopes up for the top edge of the tail. Draw a series of short, curved lines along the bottom for the lower edge of the golden retriever's furry tail.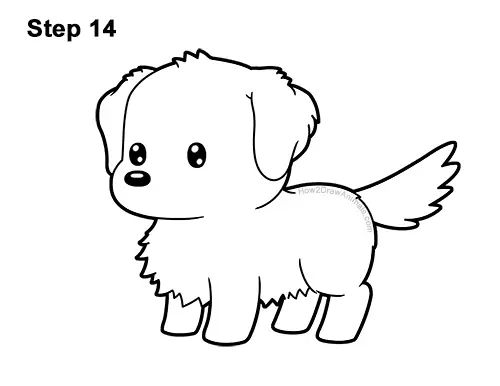 Step 14: Go over the lines with a pen or marker to make your cartoon golden retriever drawing permanent. Take your time and be careful when you ink to avoid any accidents. After the ink dries, get rid of every pencil mark with an eraser.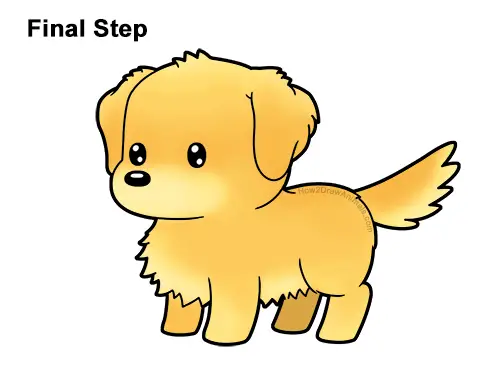 Final Step: Color your cartoon golden retriever drawing using color pencils, markers or crayons! Lightly add yellow as a base color. Use yellow-orange for the ears, the area around the eyes, the top of the body and the tail. Use light yellow for the dog's muzzle, the chest and the underside of the body. Color lightly at first. Continue to gradually add these colors and blend them by slowly pushing harder.
Coloring like this can be time-consuming, so be patient and take breaks. For an easier drawing, just color the golden retriever's entire body yellow. Use a bit of gray on the dog's opposing hind leg for shadow. Continue to add the color slowly and gradually blend them until you're happy with the result. Don't forget to pause the video after each step to draw and color at your own pace.
Thanks for visiting! Subscribe to the How2DrawAnimals YouTube Channel for a new tutorial every week.

To learn how to draw popular cartoon characters, visit EasyDrawingTutorials.com.
RELATED TUTORIALS