Page 2 of 3
Step 6: Below the eyes, draw a shape that's similar to an irregular oval for the beak. Sketch the duck's beak lightly at first to get the shape right. When you get the shape of the beak right, darken the lines. The left side of the beak should be a bit thinner and longer than the right side. The bottom of the beak should be evenly curved, while the top part should have a small bump.
Step 7: On the lower, right side of the head, draw a big, curved line for the duckling's folded wing. Make the left side a bit pointy for the tip of the folded wing.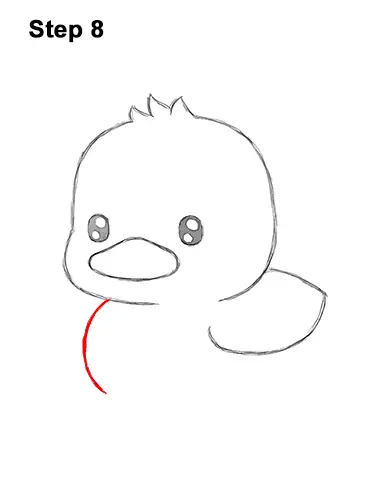 Step 8: Below the head, on the left side, draw a curved, vertical line for the front part of the duck's body.
Step 9: On the right side, draw another curved, vertical line but make the top part pointy for the duckling's tail.
Step 10: On the bottom, draw a series of short, curved, horizontal lines for the surface of the water.