Page 3 of 6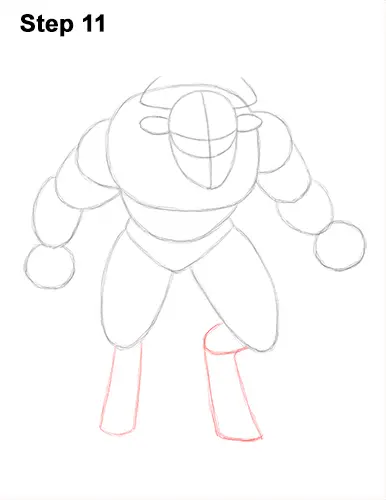 Step 11: Draw the guide for the lower leg on the left as two long, vertical lines with a short line at the bottom. To draw the guide for the lower leg on the right, first draw a small arc at the top. Then draw two long vertical lines with a short line at the bottom to complete the guide.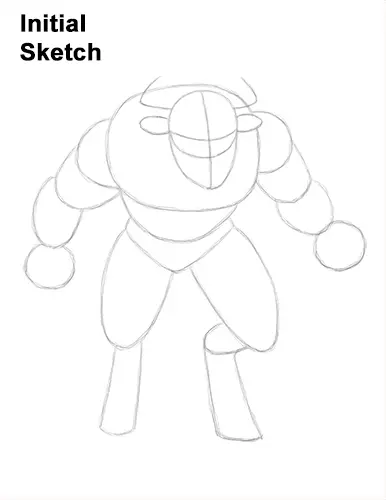 That's it for the initial sketch! From this point on, press harder with your pencil to get a more defined sketch.
Step 12: Lightly sketch the eyeballs inside the head as two small ovals. Above each eye, draw a short, diagonal line for the eyebrows. Curve the lines a bit to emphasize the furrowed brow. Extend the outer tips of the lines upward to make the minotaur's brows thicker. Darken the shape of the eyes and make the sides pointier. Add a few more lines under the eyes for extra detail on the wrinkles.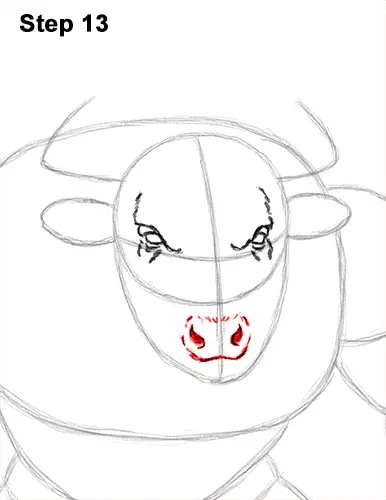 Step 13: Under the initial circle, draw a couple of short curved lines for the nostrils. Shade the sides of the lines to make the nostrils darker. Underneath, draw a wavy line for the bottom of the nose. Above the minotaur's nostrils, draw a series of quick, short strokes for the fuzzy top part of the nose.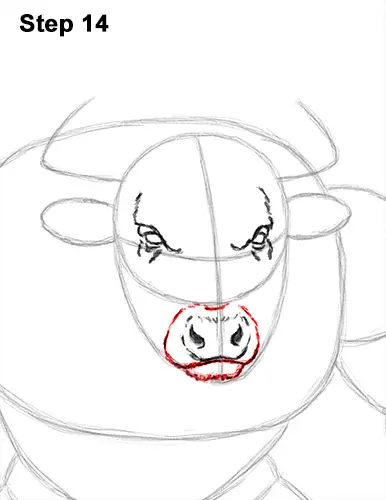 Step 14: Draw a series of lines around the nose to create the rest of the minotaur's muzzle. Extend the line under the nose more to create the mouth. Then add curved lines around the nose. Use quick, short strokes along the guide at the bottom for the fuzzy chin.