Page 3 of 4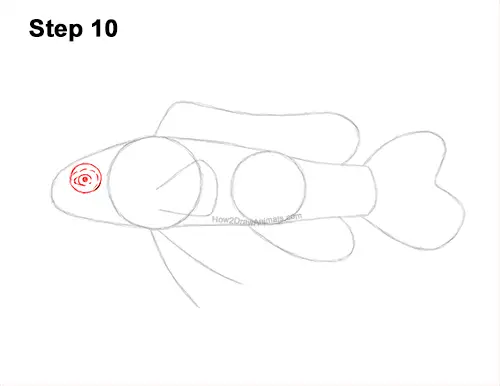 Step 10: Inside the head, near the top edge, draw a circle for the fish's eye. Sketch lightly at first to the shape and position right. In the middle of the eye, draw a small circle for the pupil. Draw a curved line around the small circle to emphasize the structure of the eye. Draw a few more short, curved lines around inside the main shape of the fairy basslet's eye for detail on the creases.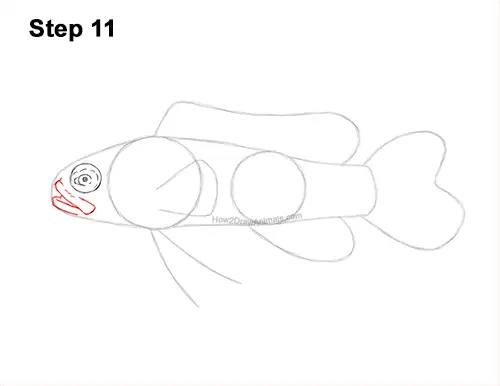 Step 11: Use the front part of the initial arc as a guide to draw the fish's mouth. Near the bottom, left side of the arc, draw a short, diagonal line for the first part of the mouth. Add another line on top to create a thicker rectangular shape for the top lip. Pay attention to the placement of the royal gramma's mouth in relation to the eye. Darken a bit of the arc for the bottom of the mouth. Curve the line up at the ends to begin to create another rectangular shape for the lower lip. Add a couple of short lines at the top to finish the bottom lip and the partially opened mouth.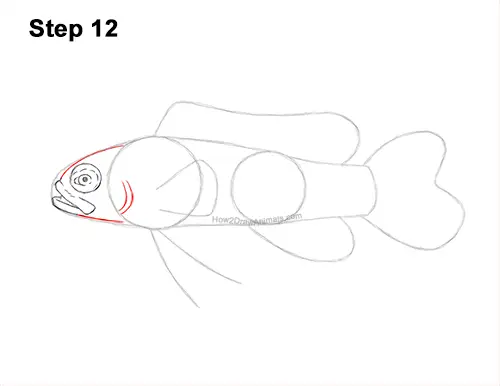 Step 12: Use the rest of the arc as a guide to finish drawing the royal gramma's head. Darken the top and bottom of the arc to create the shape of the head. To the right, near the inner edge of the initial circle, draw a couple of curved, vertical lines for the fish's gills.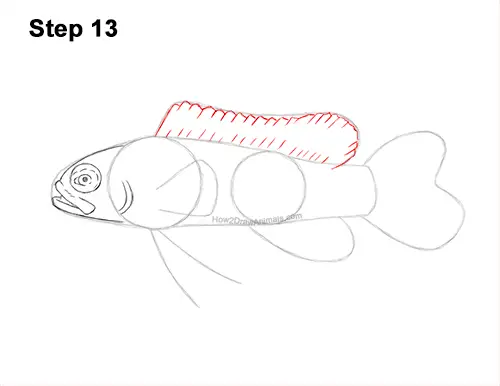 Step 13: Use the long shape on top of the body as a guide to draw the fairy basslet's dorsal fin. Darken the guide, but at the top, draw a series of angled lines along the edge for the ridges on the fish's fin. As you draw the ridges near the middle, dip the shape down more so that the shape is narrower there. You can add the angled top edge along the guide first and then add the shorter lines for the ridges after. Don't make the lines for the ridges too long. Keep them short to indicate a bit of texture. Add a series of short lines along the bottom of the shape for more detail on the ridges.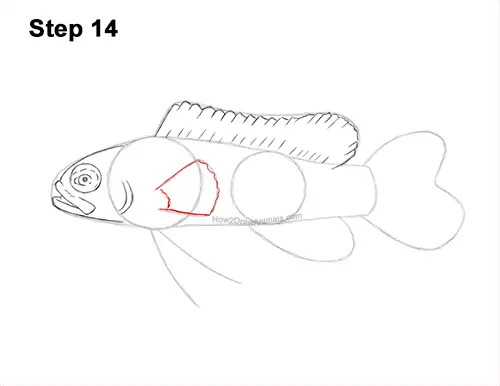 Step 14: Darken the triangular guide inside the body for the royal gramma's pectoral fin. Use wavy lines on the sides for a more organic feel.