Page 4 of 4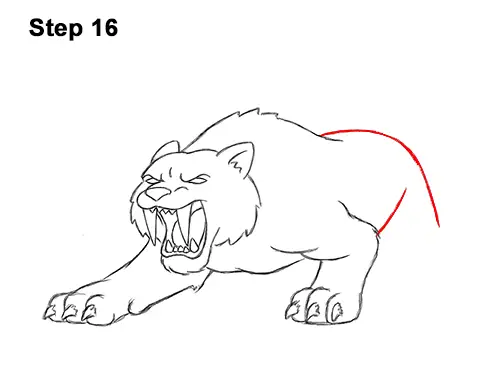 Step 16: Draw a curved line on the top, right side for the back portion of the saber-toothed tiger's body. To the right of the front leg, draw a curved, sloping line for the underside of the body.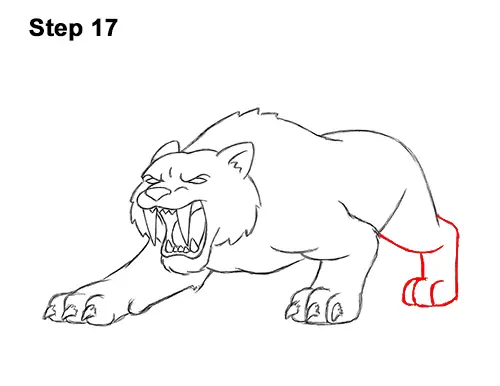 Step 17: On the right side, draw the saber-toothed tiger's hind leg using a series of curved lines. Use angled lines for the middle of the leg to indicate the bending joint. The foot at the bottom should be a thick, wide shape. As with the smilodon's other legs, sketch lightly at first and only darken the lines when you get the shape right. Add the toes at the tip.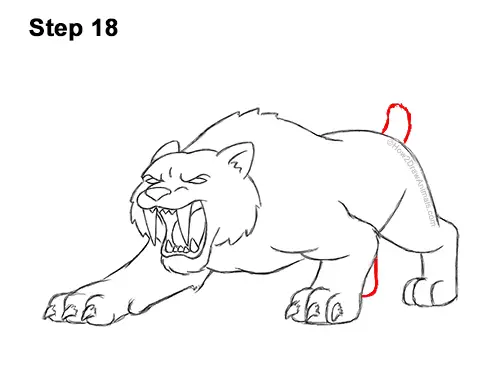 Step 18: Draw a small, curved arc on the upper, right side of the body for the smilodon's tail. To the right of the front leg, draw a short, vertical line for the visible part of the other hind leg.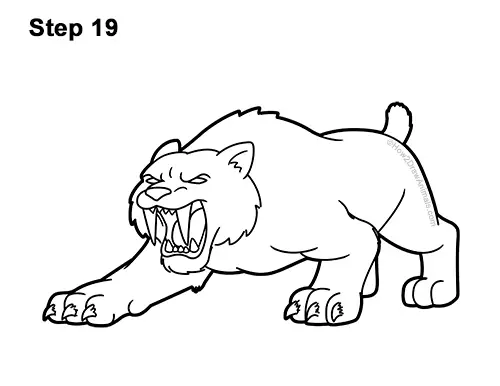 Step 19: Using a pen or marker, go over the lines to make your saber-toothed tiger drawing permanent. Be very careful when you ink so that you don't make any mistakes. After inking, get rid of every pencil mark with an eraser.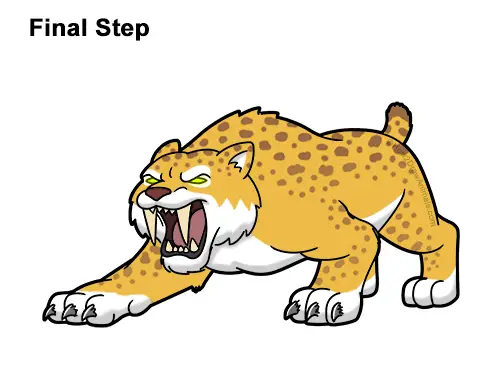 Final Step: Color your saber-toothed tiger drawing using color pencils, markers or even crayons! Use yellow for the main part of the body. Don't color the lower part of the head and body, the area around the eyes or the toes. Use dark red for the nose, brown for the inside of the mouth and pink for the tongue. Use gray for the gums and the claws. Color the teeth light brown. Leave a bit of the claws blank for shine. If you'd like, you can draw spots on the smilodon's body using brown. You can also draw stripes or any other pattern you want! Add some shadows along the bottom using gray to give the drawing more volume. Don't forget to pause to draw at your own pace.
Thanks for visiting! Subscribe to the How2DrawAnimals YouTube Channel for a new tutorial every week.

To learn how to draw popular cartoon characters, visit EasyDrawingTutorials.com.
RELATED TUTORIALS