Page 3 of 4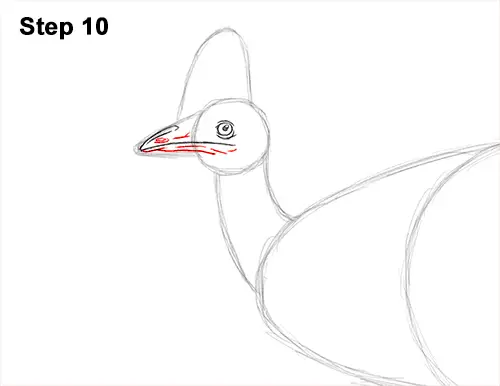 Step 10: Follow the basic path of the initial arc to create the bottom part of the cassowary's beak. Make the bottom beak thinner than the arc and add a few extra lines inside for detail. Add some detail lines to the top of the beak too, along with a small oval for the bird's nostril.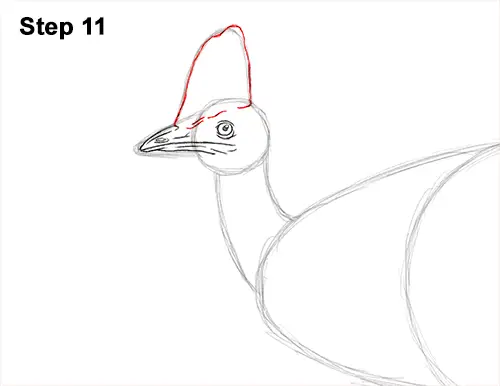 Step 11: Use the arc on the head as a guide to draw the cassowary's casque. Follow the basic path of the guide but make the top bumpier as you darken the line.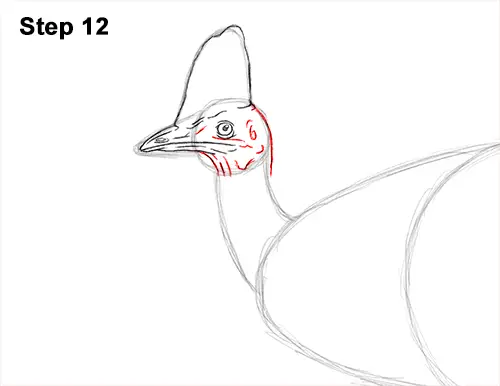 Step 12: Darken the remaining edges of the initial circle to create the head. Inside the head, to the right of the eye, draw a small oval-like shape for the ear opening. Add a few more lines inside the head for the detail on the cassowary's wrinkly skin.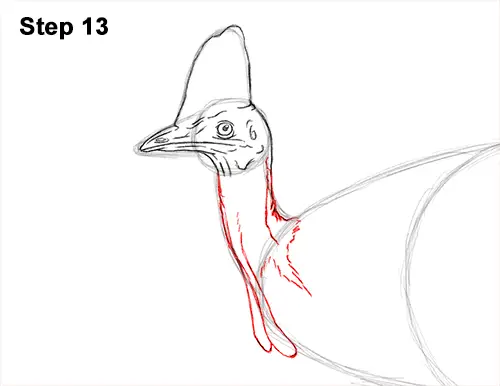 Step 13: Use the curved lines under the head as guides to draw the cassowary's neck. Follow the path of the guides and darken the lines to create the neck. Below the neck, on the left side, draw a long, thin , curved line for the loose, fleshy skin called a wattle. Make the top of the wattle long so that the line goes into the neck toward the head. On the left side, draw another long line for the visible part of the bird's other wattle. At the bottom of the neck, draw a series of short strokes to indicate where the bare skin meets the cassowary's feathered body.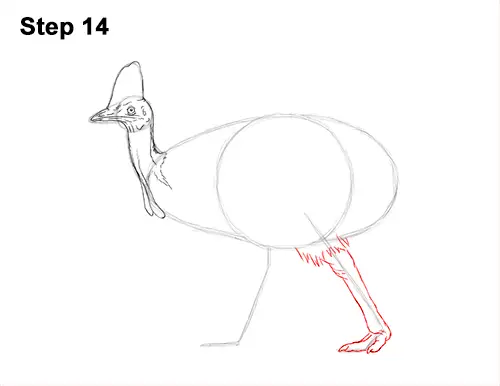 Step 14: Use the long, angled line on the right as a guide to draw the cassowary's first leg. Follow the path of the guide and lightly sketch the shape of the leg around it. When you get the shape right, darken the lines. Add a few short strokes at the top for the feathery base. As you darken the lines for the leg, make the top part curvy and bulgy for the joint. Make the bottom part where the bird's leg meets the foot curvy and bulgy too for that joint. At the bottom, where the guide slopes to the right, draw a thin, curved shape with a pointy tip for the outer toe. Follow the path of the guide to create the big middle toe. Make the tip pointy for the cassowary's claw.